Winter holidays in Carpathians, package tours Carpathians, ski resorts Ukraine
Cheremosh
Health Resort / Sanatorium
rating:

Standard

| location:

Украина (Morshin)
Centrally located in Morshin resort, 3-4 storey buildings of the health resort / sanatorium Cheremosh are near mineral wells and the main SPA establishment of the resort. The sanatorium occupies 4 Hectares of Woodland Park. Cheremosh is a prefect place for family rest. It offers many activities for children and families including tennis, games and exercising in special sport grounds. There is a department of Maternity and Child's Care.
Cheremosh is the sanatorium specialized in treatment of gastrointestinal, liver, bile-excreting ducts and pancreas. Unique mineral waters of the resort are used as a principle treatment factor.
Morshin is one of the most popular health resorts of Ukraine for more than 130 years. Due to the special magnesium sulfate composition, its curative mineral waters restore liver cells. They are anti-inflaming for bile-excreting ducts; liver blood improving, metabolic improving. Morshin mineral waters are essential part of liver, intestine, stomach, pancreas and diabetes treatments.
Morshin is rated in the same line with a world-known SPA such as Karlovy Vary, Wiesbaden, Hunyady Yanosh. It offers effective and quality treatment.
Map of Morshin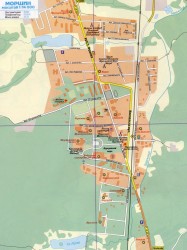 Accommodation

Cheremosh offers you a wide range of accommodation meting to your tastes and budget.

Double Economy Room (1-roomed)
Room amenities: a set of furniture, a bathroom unit (shower, washbasin, toilet). Room capacity: 2 main beds and 1extra bed (folding bed).
Single, TwinEconomy Room + (1-roomed)
Room amenities: a set of furniture, TV set, a bathroom unit (shower, washbasin, toilet). Room capacity: 2 main beds and 1extra bed (folding bed).
Single and Twin Standard Room (1-roomed)
Room amenities: a set of furniture, TV set, a refrigerator, iron, electric kettle, a bathroom unit (shower, washbasin, toilet), a balcony. Rooms are refurbished. Room capacity: 2 main beds and 1extra bed (folding bed).
Double Standard Suite 2- roomed and 3-roomed with amenities
Room amenities: a set of furniture, TV set, a refrigerator, iron, electric kettle, a bathroom unit (shower / bath, washbasin, toilet), a balcony. Rooms were recently refurbished. Room capacity: 2 main beds and 2 extra beds.

Accommodation rating (level)

Type of accommodation

Sanatorium / health resort

Type of rest

Health improvement and resort treatment

Type of boarding

Water - bath services

Russian baths
Solarium
Finnish sauna

Resort factors

Mineral water pump room
Climatic treatment
Treatment mud
Mineral waters
Own park
Thermal waters
Health paths

Medical specialization

Gynaecologic diseases
Gastrointestinal diseases
Skin diseases
Locomotive diseases
Respiratory organs diseases
Diseases of the gallbladder and biliary tract
Cardio-vascular diseases
Endocrine diseases
Upper respiratory tract pathology
Kidney pathology diseases
Nervous diseases
Urological diseases

Medical services

Mud baths SPA clinic
Salt room (salt cave)
Hydromassage room
Gynaecologist
Diagnostics laboratory
Charcot shower
Pearl baths
Inhalatorium
Acupuncture room
Functional diagnostics room
Hydropathical treatment room
Mud Treatment room
Massage room
Multifunctional medical centre
Neuropathologist
ENT doctor
Paediatrician
Therapeutist
Ultrasound diagnostics
Urologist
Physiotherapy room

Hotel's /resort's infrastructure

Car parking
Cash dispenser
Cinema
Conference-hall
Cosmetic parlour
Grocery store
Hairdresser's
Currency exchange office
Sport gymnasium
Sport grounds

Rest with children

Medical services for children

Special features

Large parking area
Share a room is available
There are single rooms

Prices and room availability

Flexible dates of check-in / check-out