Accommodation in Crimea, best hotels in Crimea, sightseeing tours to Crimea
Krasnaya Polyana
Hotel
rating:

Standard

| location:

Украина (Ivano-Frankivsk Region, Polyanitsa)
Only 10 minutes drive to the featured ski resort Bukovel, Cottage Hotel Krasnaya Polyana is splendidly located in the village Polyanitsa on the crossing of two mountain rivers. All hotel's cottages are designed in the style of log houses and equipped with all up-to-date facilities. Krasna Polyana offers excellent hotel services, traditional and European cuisine in the Gutzul restaurant, winter sports and entertaining, infrastructure of ski resort Bukovel, transportation and sightseeing tours in the area. 50 km of world-class skiing tracks, snowboarding, sledging, ice skating rings, winter fun and entertainment are waiting for you in the Carpathians.
Accommodation Terms and Conditions
Check-in time: 14:00; check-out time: 12:00;
Children of any age can be accommodated;
Children aged 0-5 y.o. sharing bed with parents and without catering are not charged for accommodation.
In case of early departure, whole cost of the package is charged.
One-time compulsory payment is resort fee = 1% of the price of the tour
Price of the extra bed (mm/dd/yy):
09.01.14 - 31.02.14 - 300 UAH
01.03.14 - 24.03.14 - 250 UAH
Price includes: accommodation, breakfast.
Medical insurance is mandatory on all adventure and skiing tours. Tour participants are responsible for purchasing medical insurance to avoid unfortunately loss of funds in case of emergency or illness. If you have your life insured by any other insurance company except for the one suggested by Laspi, we will request a refusal from our life insurance in written form.
Price excludes: insurance.
Please Note!
Tourist medical and accident insurance during your stay in / travel to Ukraine is obligatory and is provided by your Insurance Company.
Insurance policy should provide a tourist with medical assistance and compensation in case of an insurance accident in the country (place) of his/her temporary residence.
Individual transfer:
Surcharge for the air-conditioned car -- 30%
Directions:
Ivano-Frankovsky region, village Polyanitsa ;
By railroads or air to Ivano-Frankovsk, Ternopol, Chernovtsy, or Lviv. Take a regular bus or a taxi in the direction of Bukovel to village Polyanitsa, Krasna Polyana. You pass through villages Nadvirna, Yaremche, Mikulichin, Tatarov.
Distance from Krasna Polyana to Ivano-Frankovsk is 108 km, to Lviv 243 km, to Ternopol – 247 km, to Chernovtsy – 253 km.
Individual Transfer to Polyanitsa is available.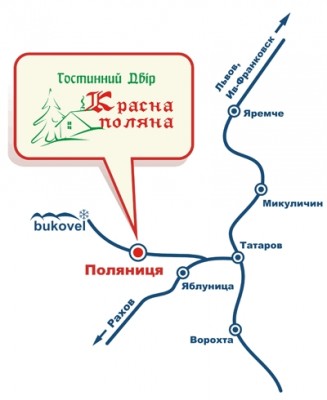 Crimean Enterprise 'Laspi'
Head office, Sevastopol
Private Enterprise "Crimean Enterprise 'Laspi'"
Office in Kiev
Private Enterprise Bajenov V.V.
Office in Moscow
Limited liability Company "Laspi"
Gogolya Street 10,
Office 2.
Phone: +38 0692 54-25-25 (multichannel)
Fax: +38 0692 54-33-68
E-mail:
Detail

Obolonsky Avenue 26,
office 603
("Minskaya", "Dom Byta 'Obolon'" undreground station)
Phone: + 38 044 501-03-92
Phone: + 38 044 592-20-04
E-mail:
Detail

Pyatnitskaya Street house 6/1,
building 1
(Novokuznetskaya undreground station)
Phone: +7 495 221-22-06
E-mail:
Detail